We regret that there are no guided tours available on Thursday, 15 August 2019.
We are happy to announce that our 2019 summer season of guided tours runs from Monday, 10 June, until Sunday, 8 September.
There are two guided tours every day, one at 11:00 and one at 15:00. We recommend advance booking as places are limited to 25 per tour.
We will be posting news of occasional events when details are finalised, so please keep in touch for updates. National Heritage Week takes place from 17-25 August 2019.  Culture Night this year takes places on Friday, 20 September 2019.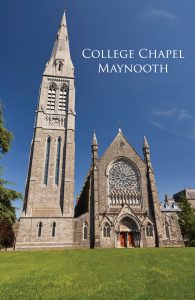 Our booklet, College Chapel, Maynooth is a beautifully produced 40-page publication featuring specially commissioned photographs that highlight the College Chapel's visual, artistic and architectural riches.
College Chapel, Maynooth is a fund of information on the history of the Chapel's design and construction.
If you concur with Michael Portillo's claim on Great British Railway Journeys that you cannot come to Ireland and not visit Maynooth College's Chapel, you will want to take home this lovely memento of an unforgettable place.
College Chapel, Maynooth is available at reception at Maynooth Campus Conference & Accommodation and in good bookshops.
You may also purchase College Chapel, Maynooth in our online shop.