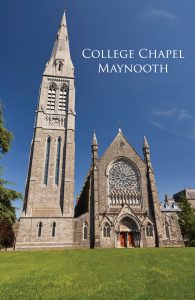 Our booklet, College Chapel, Maynooth is a beautifully produced 40-page publication featuring specially commissioned photographs that highlight the College Chapel's visual, artistic and architectural riches.
College Chapel, Maynooth is a fund of information on the history of the Chapel's design and construction.
If you concur with Michael Portillo's claim on Great British Railway Journeys that you cannot come to Ireland and not visit Maynooth College's Chapel, you will want to take home this lovely memento of an unforgettable place.
College Chapel, Maynooth is available at reception at Maynooth Campus Conference & Accommodation and in good bookshops.
You may also purchase College Chapel, Maynooth in our online shop.